Details
Frequently Asked Questions:
Can I just use the handles & trim?
"No. The handles will not work with your existing rough-in valve."
Does this set have a "scald guard" pressure balanced feature?
"No. Only single handle sets come pressure balanced."
Is this set approved for new construction?
"As this set is not pressure balanced, if there is going to be an inspection, it may not pass local building codes. You will need to check with your building department."
My existing valve in the wall is no good, but I want to save the tile on the inside of the tub. Will your set work. I am not having a plumbing inspection?
"Yes, as long as you are able to access from behind tub or shower and change the rough-in valve."
Specifications:
Solid Brass Water Way Construction
2.5 GPM/9.5 LPM@ 60 PSI
6" Reach Shower Arm
1/4 Turn Washerless Cartridge
1/2" IPS Connections

What's In The Box:
Faucet Complete As Pictured - Ready To Install
Includes Rough-In Valves
Installation Instructions



Application Type:
3 Valve Diverter Style Tub & Shower Combination

Finish:
Oil Rubbed Bronze Finish


Measurements: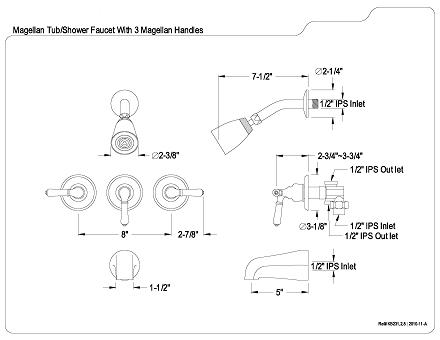 Click Inside The Drawing Above To View The Full Sized Specification Sheet